To the Professional Photographers taking family portraits in the gardens there is a fee of $35.00. Please call ahead and let us know.
Thank you.
Summers Past Farms
15602 Olde Hwy 80
Flinn Springs, CA 92021
(619) 390-1523
Open
Thursday – Saturday
9:00 - 5:00
Sunday 10:00 - 5:00

Closed
Monday- Wednesday
All year
~
New This Month

~
Get Our E-Mail Newsletter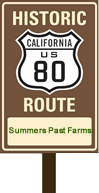 Use your browser's refresh/reload button to be sure you are viewing our most recent content.
November 2018
Click here for registration information.
Open Wednesday - Saturday: 9:00am - 5:00pm
Open Sunday: 10:00am - 5:00pm
Closed Monday & Tuesday
Closed November 22nd for Thanksgiving.


November 3rd, Saturday
11:00 a.m. - 1:00 p.m.
Soap Making Class
This demonstration will give you the confidence to start making your own herbal soap. You will observe the soap making process, learn the techniques, and help stir. See how the finest all vegetable based herbal soaps are made. You will receive some soap samples of our favorite soaps and save 10% on soap making supplies the day of the demonstration.

Registration required. Fee: $25.00 Sheryl Lozier
Holiday Open House
Thursday, November 8th 5:00 - 8:00 pm
You are invited to start your holiday season at Summers Past Farms. Be inspired by our selection of fall and Christmas gifts and home decor. The Barn will be filled with lights and the trimmings of the season. The store is a special place to be in the evening with all the holiday sparkle and the scents of the season. The Soap Shoppe will have special holiday soaps and gifts ready for the giving. Come with all your friends.
Making this an old fashion open house please bring a plate of your favorite homemade cookies for the cookie table. We will have Christmas music & hot wassail for you to enjoy at this most enjoyable event under the Christmas lights.
Closed November 22nd for Thanksgiving