To the Professional Photographers taking family portraits in the gardens there is a fee of $35.00. Please call ahead and let us know.
Thank you.
Summers Past Farms
15602 Olde Hwy 80
Flinn Springs, CA 92021
(619) 390-1523
Open
Thursday – Saturday
9:00 - 5:00
Sunday 10:00 - 5:00

Closed
Monday- Wednesday
All year
~
New This Month

~
Get Our E-Mail Newsletter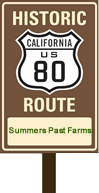 Use your browser's refresh/reload button to be sure you are viewing our most recent content.
Summers Past Farms in the media:
We are featured in the fall 2007 issue of Better Homes & Gardens Special Interest Magazine with a 6 page spread on paper making.
Cover photo courtesy of Garden Ideas & Outdoor Living magazine, Meredith Corp.
San Diego Home/Garden October 2004
"Gardening/Ornamentals" by Debra Lee Baldwin, page 72.
Better Homes & Gardens June 2004
"Art in the Garden -- Enchanted Gardens" by Marty Ross, page 60.
Sunset Magazine April 1998
"Nursery Hopping in San Diego County"
by Sharon Cohoon, page 80.
Garden Compass September/October 2002
"Notable Nurseries -- Summer's Past For Gardens Present" by Karen Dardick, page 18.
Garden Compass July/August 2001
"Collectible Beauties -- Landscaping with Geraniums" by Sheryl Lozier, page 45.
Garden Compass May/June 2001
"Garden Vinegars" by Sheryl Lozier, page 60.
Country Living Gardener October 1997 (we made the cover photo)
"Herbal Heaven" page 40.