To the Professional Photographers taking family portraits in the gardens there is a fee of $35.00. Please call ahead and let us know.
Thank you.
Summers Past Farms
15602 Olde Hwy 80
Flinn Springs, CA 92021
(619) 390-1523
Closed Monday & Tuesday
Wednesday - Saturday:
9:00am - 5:00pm
Sunday:
10:00am - 5:00pm
Get Our E-Mail Newsletter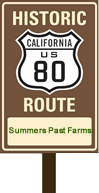 Use your browser's refresh/reload button to be sure you are viewing our most recent content.
Our Special Events
During the year the farm hosts several special events. Once again we will be having the popular Fairy Festival complete with parade and wee garden competition and don't miss out on the always popular Sweet Pea Day. These days will feature food, music and fun! Make plans to visit us on these festive special event days. (scroll down to see all the special event dates ~ more info to come)
Days & Hours
Open Wednesday - Saturday: 9:00am - 5:00pm
Open Sunday: 10:00am - 5:00pm
Closed Monday & Tuesday
2013 Events
Mother's Day ~ Sunday, May 12th
Come out to the farm with the whole family. We will be open 10:00 am to 5:00 pm
Fairy Festival ~ Saturday, June 1st
Lavender Day
Saturday, June 15th
Live music with
Jim Earp 11:00am - 2:00pm
Fill your summer garden now!
20% off ALL plants

Lunches will be available for sale at the coffee bar
Come celebrate the fragrance and beauty of lavender. Spend the day with a friend at the farm and shop in the barn for great lavender gifts like scented drawer liners. Lavender herbal soaps fill the soap shop with the scent of the south of France~come and experience it.
Fill your garden and containers with many types of lavender during our one day plant sale. Picnic while listening to live music in our spacious coffee bar or grass area. Lunches will be available for purchase at the coffee bar. Remember to wear lavender!

Afternoon Tea in the Garden
You are invited to join us for Lavender Day and the delightful tradition of Afternoon Tea in our beautiful gardens. The scents of summer and the pond make a lovely setting to enjoy tea with your family and friends. Enjoy Tea served with various gourmet delights and of course Tea and Scones!
Tea will be served at
11:30am.


Prepaid reservations will be accepted at $36 per person.
Please reserve early as this will be a "sold out" event.
Catered by: Lynn Stine
Pumpkin Patch Month of October
A favorite time for Summers Past Farms
Pumpkin Patch week-ends
All week-ends are fun filled for everyone. Bring your cameras, family and friends.


Holiday Open House
Thursday, November 14th 5:00 - 8:00 pm
You are invited to start your holiday season at Summers Past Farms. Be inspired by our selection of fall and Christmas gifts and home decor. The Barn will be filled with lights and the trimmings of the season. The store is a special place to be in the evening with all the holiday sparkle and the scents of the season. The Soap Shoppe will have special holiday soaps and gifts ready for the giving. Come with all your friends.
Making this an old fashion open house please bring a plate of your favorite homemade cookies for the cookie table. We will have Christmas music & hot wassail for you to enjoy at this most enjoyable event under the Christmas lights.
Antique & Craft Fair
Saturday, December 7th
9:00am - 4:00pm
An extraordinary Craft Fair! Over 70+ fine craftsman and expert artisans can be found at our Fall Craft Fair. Crafts, collectables, antiques & a garden sale all on our spacious lawn area. Enjoy your day shopping for the holidays at this great outdoor event!